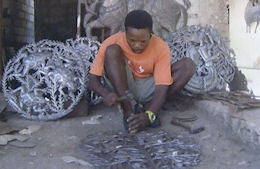 Paul Montes is one of the many fine artisans who create steel oil drum art in Croix-des-Bouquets, a northern suburb of Port-Au-Prince, Haiti.
Born in Croix-des-Bouquets in 1971, Montes learned his craft from Hubert Bernard. Later, opened his own shop because he loves creating his own designs. He completely sold out of all his works in three recent art expositions in Haiti.
It wasn't an easy decision to leave Hubert Bernard's shop and create my own art. I have a wife and children to support. It wasn't an easy street for me, in spite of my experience. But thanks so to God that I did.
Paul Montes
Sorry, there are no products matching your search.