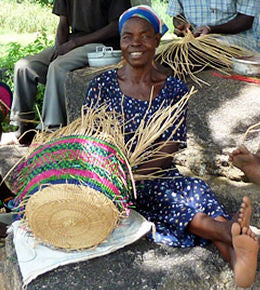 Weavers in the Bolgatanga region of Ghana, West Africa, are world renown for their beautiful handiwork.
Before weaving can begin, artisans must harvest the grass, dry it, split the grass into various sizes, select the correct size for the basket they want to create, determine the colors, and dye the grass. Weaving the basket is a time-intensive process. It generally takes 3 days to create a medium-sized basket. Weaving begins at the base and ends with the rim. Handles are then applied, and the baskets trimmed.
Basket weaving is typically a woman's craft. The local farming community is fraught with intemperate weather. Farming income alone is not always enough to meet the family's needs, so the women supplement it by weaving baskets.
Ghana Weavers
Sorry, there are no products matching your search.