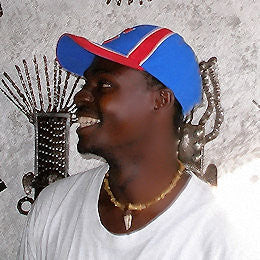 Jean Carlo Brutus is one of the many fine artisans who create steel oil drum art in Croix des Bouquets, an area of Port-Au-Prince, Haiti.
Carlo apprenticed with Gary Darius and his older brother, Jean Closter Brutus. He first opened his shop in 1994. Designs are influenced by the natural world.
Prior to the 2010 earthquake, Carlo and others relied on established producer groups to perform activities necessary for export, including banking and shipping. Just 4 weeks after the earthquake, Carlo set up his own bank account, established a relationship with a shipping agent, and began taking orders and shipping product overseas.
He is now sponsoring other local artisans looking for an opportunity to sell their product overseas. Carlo continues to create beautiful works of art today. If this item was personally crafted by Carlo, it will be noted in the product description. If the work was created by Carlo or one of the artists he sponsors, the product description will say it was done by "Carlo Brutus and Friends."
Carlo Brutus