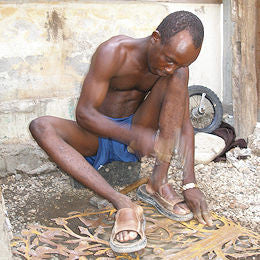 Caribbean Craft, formerly Drexco, was founded in 1990 by a multi-national group of young entrepreneurs. The group promotes employment in Haiti by training unskilled, but gifted, craftspeople. They also help independent artisans develop new designs and market outlets. Unemployment in Haiti, the poorest country of the American hemisphere, is variously estimated between 60% and 80%.
The organization has gone through rough times over the years. Many were marked by political troubles and economic difficulties, including a 3-year long embargo on all Haitian exports. Drexco saw in 1997 its premises ransacked and destroyed during gang violence. Relocated to a higher-security industrial park, the organization currently employs 400 artisans, either as salaried employees or outside contractors. There are roughly equal numbers of men and women.
Caribbean Craft's specialty is brightly-colored, hand-painted home decor objects, such as wall hangings, switch plates, and magnets. The natural artistic talents of the Haitians are well known, and many of these hand-painted pieces are truly works of art.
Caribbean Craft