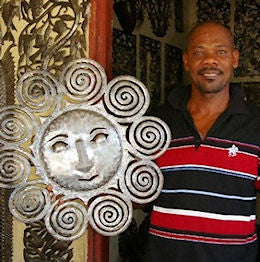 Brutal Michel is one of the many fine artisans who create steel oil drum art in Croix-des-Bouquets, a northern suburb of Port-Au-Prince, Haiti.
Brutal is the son of Cecile Casseus and Brutal Saint-Clearly. The eldest in a family of ten children, today he is married with two children of his own.
Brutal began sculpting metal in 1987. He is grateful for the teachings of others, but regrets never having the opportunity to study directly under Serge Jolimeau and Gabriel Bon Amie. He is inspired by "nature like trees and that by the sea, such as: the siren, the tortoise, fish, and so much other."
He opened his own workshop in 1997, sending two younger brothers and a daughter through school.
This trade is very important for me. My family was completely poor and is thanks to this trade that I manage to support on my shoulders the loads of my family in general.
Brutal Michel
Sorry, there are no products matching your search.